FREE SHIPPING U.S. Lower 48 States
Details
Tigershark
Tigershark PWC Parts
Arctic Cat is an American company founded in 1960 in Thief River Falls, Minnesota. Just like few other companies like Polaris, Arctic Cat started as a snowmobile manufacturer. After ten years, they have started to produce boats, but due to their bad financial plan the company went bankrupt after two decades. In 1984, Arctco company continued with the manufacturing process. Besides the snowmobiles and boats, they are also manufacturing all-terrain vehicles, side-by-side vehicles and of course – personal watercrafts. It is good to mention that since 1996 the company is rebranded to Arctic Cat. All of their products have different generic names – Arctic Cat snowmobiles, Bearcat ATVs and Tigershark PWC.
Tigershark PWC
Arctco or Arctic Cat entered the personal watercraft industry in 1993. The company's management felt that they are losing much of their profits because of the PWC introduced by their competitors like WaveRunner and Jet Ski which were so popular that practically become second names for personal watercraft. Almost all of their models had attractive names which were gradually replaced with a combination of letters and numbers later. Their first two models in 1993 were Daytona and Barracuda. Arctic Cat hoped that the combination of lower price and good quality they were trying to provide to the market will result in their efforts to dominate the market, but it turned out that this was not enough for this competitive market. Most of their rivals started producing PWC much earlier and it was hard for them to make a breakthrough with average models. The truth is that their vehicles were not really bad, but they didn't offer something new and that's why most PWC enthusiasts decided to stick with the proven solutions provided by other manufacturers. In 1999, the company decided to stop the production of all PWC models. However, it is worth mentioning that they had certain success and many Tigershark pwc models are still in use today thanks to the availability of Tigershark jet ski parts. Since there were many different Tigershark PWC models we will mention only some of the most popular ones.
Most Popular Tigershark PWC Models
Arctic Cat Tigershark (1993)
The first Tigershark model was introduced at the same time with Polaris SL750, Sea-Doo XP and Yamaha Pro VXR. So, it is no surprise that these models have similar performance. This particular 1993 model was powered by a 650 cc two-cylinder mono-carb engine that delivers 60 hp. Midrange and upper throttle settings are perfect for this type of engine. Although this is a long and wide watercraft it has a really low profile which made its appearance slightly different from other models of that time. Many users complained about the low seat, but that's something that depends on individual's needs. This model has good stability and allows easy spin-outs.
Arctic Cat Tigershark Monte Carlo
This specific series was designed primarily for families with children. People from Arctic Cat advertized it as the best towing machine on the market. There were several different models from this generation. The Monte Carlo 900 with three-cylinder motor is the most powerful among them. 770 version is focused on the best performance and it comes in two different colors blue and red and the Monte Carlo 640 version is what experienced PWC users call a value deal. What all of these models have in common is the fact that they can accommodate up to 2 individuals and they have a specially designed touring hull that provides extra stability. In addition, there is enough storage space for a short stay in nature or even for a picnic. This was one of the most popular Tigershark PWC models because it was accepted by people from all generations.
Arctic Cat Tigershark 640
Back in the days this model was considered to be one of the most modern-looking PWC on the market. The Tigershark TS 640 model features a 62 hp engine with 639 cc and a sophisticated 38 mm Mikuni carb. This model was and still is, very popular among beginners in this activity because it is really easy to operate it even in rough waters.
Arctic Cat Tigershark 770
This is a rare example of a personal watercraft with excellent engine and performance and relatively low price. The Tigershark TS 770 has a two-cylinder, 768 cc engine. It also has a redesigned deck, handlebar pads and a very comfortable seat. Since the seats are usually one of the first parts of a jet ski that needs to be replaced it is now wonder why you can find so many people looking for tigershark jet ski parts in this category.
Arctic Cat Tigershark 1000 L
This model comes with some more sophisticated and advanced features such as manual trim or reverse system. In addition, it also comes with a comfortable 2-piece seat design, increased storage space and a 16 gallon fuel tank which mean that you can ride this PWC for a long time. The engine comes with 999 cc and this is one of the most expensive Tigershark models.
Arctic Cat Tigershark 640 L
Although this model has a less powerful 639 cc engine it is more than enough for those who want to use their Tigershark PWC to pull tubers, skiers or even a hydro-trailer. One of the main characteristics of this model is the smooth deck design, knee area covered with pads and few other exclusive extras.
Arctic Cat Tigershark 770 L
Tigershark 770 L is a perfect example of a good combination of simple-to-read gauges, rearview mirrors and powerful engine. It comes with a 768 cc engine and completely new towing package introduced for the first time in some of Tigershark models.
Arctic Cat Tigershark 770 R
The 770 R model is actually a slightly modified version of 770 L. It comes with an excellent 90-hp, 768 cc two-cylinder motor with durable 38 mm accelerator-pump carbs.
As you can see, although Tigershark PWC models are not produced for more than a decade, their excellent performance is the reason why people are still interested in these jet skis.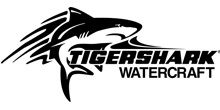 Shop Used Parts
Tigershark Navigation